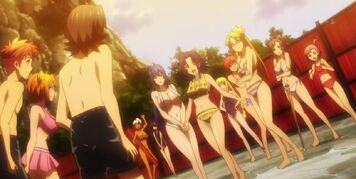 Madō Kenkei Kikōu is the full name of the Maken-ki group, made up of the Security Committee (kenkeibu), the Magical Enforcement Committee and the Student Council.
All its members have sworn to protect Tenbi and their students, and are judges in duels and ensure that these are carried out honorably and fairly.
The group was founded by Minori Rokujou while she was at school, in order to stop the selfish use of makens through the school.
Ranks
Supervisor and advisor: Aki Nijou
President: Furan Takaki (3rd year).
Vice-President: Haruko Amaya (2nd year).
Treasurer: Yuuka Amado (3rd year).
Secretary: Kimi Sato (2nd year).
Second year members: Kodama Himegami, Azuki Shinatsu, Chacha Akaza.
Freshmen members: Takeru Oyama, Inaho Kushiya, Uruchi Minaya, Kengo Usui.
Gallery